Start your career at eBacon!
Join an exciting and growing team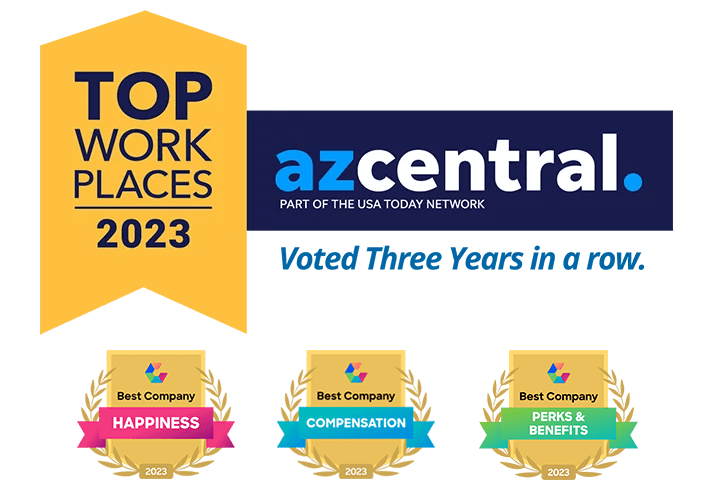 Our office boosts a casual environment where autonomy and new ideas are encouraged. We have a true open-door policy and believe in cultivating a culture of trust and transparency. Those that enjoy themed restrooms will enjoy our space and may find the Lightshow or Jeff Goldblum bathrooms to be their favorite space in the building. Everyone, however, loves the monthly catered lunches, free snacks and holiday celebrations.
We believe that success starts with our workforce, which is why we are proud to offer competitive pay and benefits, including health, vision and dental. This includes flexible PTO so you can recharge and create the work-life balance you deserve. Additionally, we have an easy-to-enroll in 401k with a generous match to make it easier to save for the future.
Every two years we go on a retreat to a fun location so we can relax and recharge together. We also have a reward program called the Tour de Bacon. This is an annual program where we award 5 employees with an all-expenses paid trip anywhere around the world for them, plus one.
We're all about growth! We have internal development opportunities that encourage employees to learn skills beyond their department. This helps you grow your skills and can open the door for internal opportunities.
Be Curious and Creative
We do not accept the status quo, we challenge thinking and ask why.
Create Ravenous Fans
We do this by delivering exceptional customer service to our clients and towards our internal team members.
Don't Take Ourselves Too Seriously
We are not doing brain surgery. We defuse our stress with a lot of laughter!
eBacon is a software company that focuses on certified payroll and fringe benefit management for the construction industry. Our software solutions combine time tracking, fringe management, payroll and certified reporting to help contractors and subcontractors avoid risk and become more profitable.
We design and develop our own software and applications. Because we have our own advanced inhouse development team, we are able to rapidly respond to the needs of clients. This allows us to create amazing products that solve real world problems.
One last note about eBacon.  We really love Jeff Goldblum.  Like, a little to much.  We have what people in the Medieval Era would call 'A Shrine' to Jeff Golblum.  If he were a saint we'd have a feast day for him.  It's hard to convey culture of a company, but if you find this jazz-era silver haired movie hero amazing, then we think you'll fit in at eBacon.